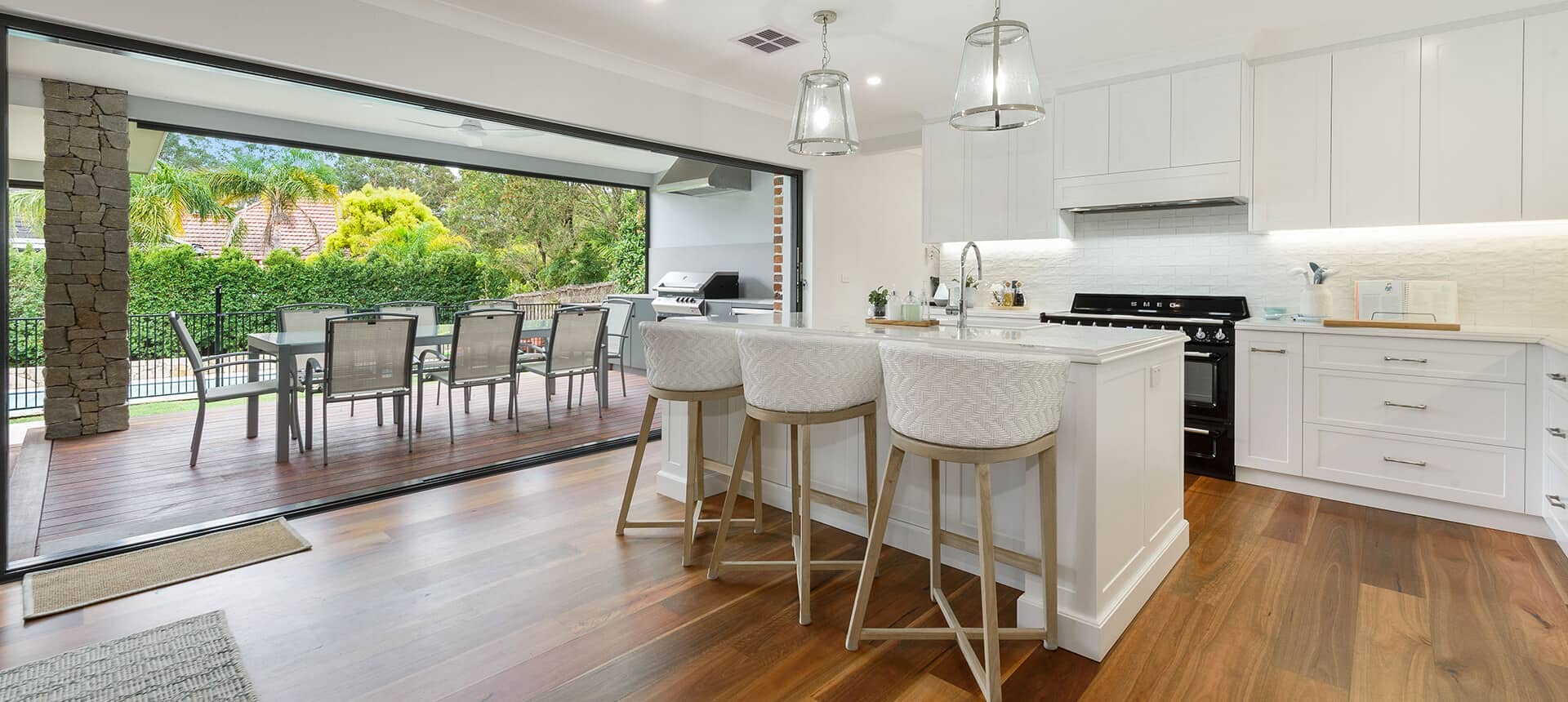 At SBS Building Services, we specialise in high quality extensions, renovations, first floor additions and outdoor living areas. To provide ease and peace of mind, we are a complete service with exceptional customer service, covering the entire process of your build from start to finish.
Beginning at the initial concept and finishing at the completion of the project, we can arrange and organise each step in the process, including council approvals, so you have nothing to worry about and take some of the stress out of the building process.
Our highly experienced and knowledgeable team can help you create your ideal home so you can enhance your lifestyle and create a beautiful, functional space for your family, while helping you stay within your budget. We want you to be excited about your new house transformation; so we try to make the process as easy as possible for you.
Servicing the Hills District, Lower North Shore and Upper North Shore and North West Sydney, we provide excellent quality workmanship and impeccable customer service. Customer satisfaction is of the utmost importance to us. If you are looking to transform your home, we aim to exceed your expectations and create a home that is all about your lifestyle.
1. CONCEPT DESIGN
After your initial consultation and enquiry, the first step in our process is to design concept plans for your project. An exciting moment, this is where we explore all possibilities.
Using our lengthy experience and the thorough knowledge we have learnt about your goals and overall vision, our experienced consultants will take your requirements and work with you to establish the correct design for your home.
As custom home builders, each design we produce is bespoke and tailored. This means your home will be one-of-a-kind, designed specifically for you and your individual property. We will consider ways to enhance your family's lifestyle while analysing the flexibility and restrictions your property offers for your renovation or extension.
2. Quote
Once we have finished working with you to establish your design concept, we provide you with a detailed quote based on your concept plans.
The quote details the overall estimated costs, covering all angles. This includes all up-front costs, discussing the timeline and overall budget, so you're across all details and understand everything from back to front.
In this quote we make sure your budget is considered so we can help you achieve your dream home.
3. Final Design
Once a design and quote is agreed on, the next step in your home renovation or extension is to establish the final drawings so we can go forth with the approval process. We will walk you through each step carefully, from the approved concept to the materials used.
Our interior designer will meet with you to choose your colours, fixtures and fittings so the planning and choices begin. This is the time for any final alterations and to ask any questions or concerns you may have. Transparency is key, so we are open to discussion.
Finally, you'll review the site plan and floor plan one last time, signing everything off once you are confident the plans reflect your overall vision.
4. APPROVALS
As a complete building service, we take care of council approvals, engineering and all other aspects, delivering you total peace of mind.
We understand how confusing and frustrating this step in the process can be. Therefore, by submitting and organising approvals for all necessary authorisations, including the council on your behalf, we can guarantee that all is in place in preparation for construction.
5. BUILD
Now for the action! Once we've received all the approvals needed, we can go ahead with the biggest step — the build. The commencement of construction means you are one step closer to your new house. Our professional team will construct your custom build and include all the desired functions you want to suit your lifestyle.
During this process, your dedicated site manager will maintain clear communication and quality control, keeping you informed on progress and informing you when further decisions are required. We also ensure a clean worksite, cleaning up at the end of each workday. When choosing SBS Building Services, our team will only ever deliver top quality workmanship, so the finished result is one you can cherish for years to come.
6. COMPLIANCE
We've reached the point where your home is nearly complete! But as construction winds down, our job isn't done just yet. Our team does a final inspection of the overall build to ensure your complete satisfaction. We also ensure all required documents, as well as the compliance certification, are obtained.
This way, we can guarantee all relevant standards are upheld, ready for you to relax and enjoy your transformed home. Once everything has been inspected and confirmed, we will give you a rundown detailing any new features, installations and warranties before handing over all keys to you.
7. EXPERIENCE
At SBS Building Services, 100% customer satisfaction is our priority. When you choose our team, we will go above and beyond to exceed your expectations. Family run and fully licensed, we understand just how important it is to establish a quality home for you and your family to thrive in.
Using our expert industry knowledge and extensive 30 years of experience, we ensure your entire experience is a seamless journey that leads you to your dream renovation or extension. That's why you will feel comfortable trusting us as your go-to builder.

Ready to start your dream project?